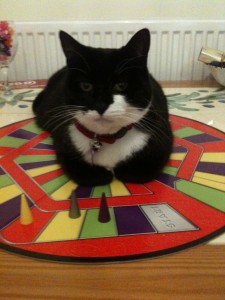 Karen bought our best-selling cotton collar for her lovely cat Purdy who is 12 years old and was rescued from the streets when she was 6 months old by The Cats Protection League.
Here's what Karen says about Purdy. "Since she was rescued she has been living a life of luxury but rewards us all for this with lots of love and bags of character! She is a perfect Tuxedo and wears a glossy black jacket with a pure white shirt, white evening gloves and stockings.
A fancy collar ensures she always looks her best. Purdy likes to be involved in everything that is happening. She likes board games and often takes over by sitting in the centre of the board making sure she doesn't miss her turn. In the summer months Purdy likes to "nest" and makes a new one every year so she can sleep and keep cool. We are all very glad that she came to live with us."
We love these photos of Purdy sitting on the middle of the games board and nesting in the garden. She's also modelling her new cat collar which looks gorgeous on her. We love to see our handmade cat collars looking so pretty on our kitty customers!
We also donate proceeds to cat, dog and animal rescue charities in the UK, The Cats Protection League is one of them. Thank goodness they rescued Purdy and she found a loving and caring home with Karen.  Thank you Karen for your custom and photos of Purdy and we hope to see you both again in the future. x     Our handmade cotton cat collars are available to buy in our shop.